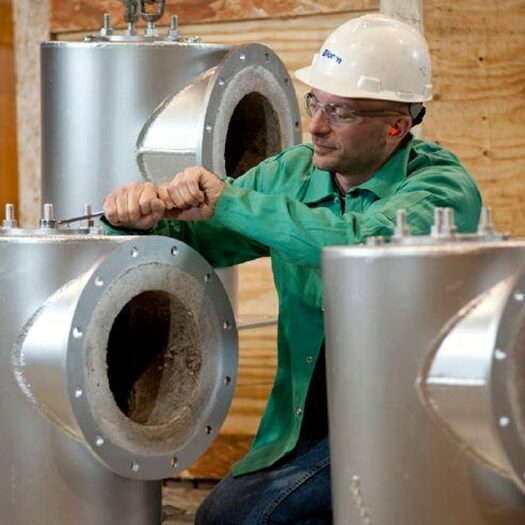 COMBUSTION SERVICES THAT KEEP YOU OPERATING SAFELY AND EFFICIENTLY
For more than 85 years, Bloom Engineering has been supporting heavy industry with energy optimization and environmental solutions, including services. We offer comprehensive support for all types and makes of industrial burners, burner management systems and related equipment. Our experienced field support teams are committed to address all of your safety, environmental sustainability, product quality, productivity, and energy efficiency needs, giving your plant a meaningful competitive advantage.
Safety and Environmental Compliance
Compliance support and safety inspections for insurance, regulatory, and codes for the following areas:
National Fire Protection Association (NFPA) 85/86 and EN 746-2
OSHA MACT & RACT (Occupational Safety and Health Administration Maximum Achievable Control Technology & Reasonably Available Control Technology)
Operational Support (Training, Work Procedures, Documentation)
Upgrades & Modernizations to Improve Safety & Environmental Protection, Productivity & lower energy costs
Operational Consulting & Preventative Maintenance
Bloom Engineering's qualified, experienced engineering and service personnel will review operations of thermal systems with the goal of maximizing productivity. A full range of preventative maintenance is available onsite or through remote support for all types and makes of industrial combustion systems. We can help reduce unplanned outages and troubleshoot problems in the following areas:
Combustion Tuning
RACT, MACT, OSHA, NFPA 85/86, EN 746-2 Compliance Support
PRO (Proactive Remote Operational) Support Package & Internet- and Phone-Based Support
Troubleshooting & Corrective Maintenance
Extended Warranty Programs
MODERNIZATIONS & UPGRADES
Industrial combustion systems have working lives that can span decades. As demand for new products, tighter tolerances and more robust safety and environmental protection increases, our engineering and R&D professionals can breathe new life into your legacy equipment and make your facility state-of-the-art.
Benefits include:
Improved Production Capabilities
Improved Operational Safety & Environmental Compliance
Expanded Product Portfolio
Reduced Energy Costs
FURNACE ANALYTICAL SERVICES | OPERATIONAL MODELING | CFD ANALYSIS
Our Engineering and R&D Center of Competence integrates in-house computational fluid dynamics (CFD) analysis, proprietary furnace modeling, and our comprehensive combustion laboratory to understand and solve the most complex combustion challenges.
Complex modeling for heat transfer, combustion reactions, emissions, and furnace operation
New product development & integration
Low carbon fuel development – including hydrogen, biofuels, and other site-produced fuels
Plug-and-play combustion system replacement
Auxiliary component verification for valves, instruments, controls
3rd-party testing for emissions, performance, troubleshooting
Combustion Tuning Services
Qualified service technicians can adjust combustion systems for optimum performance, maximum efficiency, and lowest emissions. Since we design and manufacture the combustion system, we know how to restore your furnace, industrial burner and combustion systems to the original specifications, or better.
Startup Support, Installation Supervision and Outage management
Managing site activities properly is crucial to ensuring your outage or startup schedule is on track. Bloom Engineering's installation supervision and commissioning teams work seamlessly with the furnace OEM, maintenance staff, and construction teams throughout the outage and startup process to ensure that combustion systems are running as specified, on-time and on-budget.
Combustion Energy Audits and Furnace Studies
Improve Performance: Qualified engineers can review furnace operations regarding fuel usage, operation, and emissions and can assess your combustion systems and provide valuable insight for improving it.
Improve Process: As the experts in state-of-the-art burners, burner control systems, CFD and combustion engineering, we'll help you and your team get the most out of your heating process.
Leading with R&D: Bloom Engineering's world-renowned combustion lab is equipped with more than 20 furnaces for fundamental and applied R&D for product development, operational analysis and troubleshooting.
Achieve Results: Whether your O&M team needs assistance with technical questions or achieving strategic objectives, we have the knowledge to help you make informed decisions and deliver measurable results.
Regional Combustion Training Seminars
REGIONAL COMBUSION TRAINING SEMINARS | COMBUSTION SCHOOL
Bloom Engineering regularly holds combustion training seminars at locations around the world, including custom tailored seminars and training at your plant. Our lineup includes in-house and 3rd party speakers with significant combustion and process engineering experience to provide you with knowledge and information that can immediately benefit your plant operations.
Combustion Seminar and School Topics include the following:
Basic principles of combustion science
Properties of gaseous fuels (other fuels at customer discretion)
Combustion analysis – products of combustion, flue gas analysis and combustion efficiency
Methods of waste heat recovery
Heat transfer and accounting for heat losses (process specific)
Fluid flow (pressure losses, interchangeability of gases, pressure and flow relationships)
Different types of fuel combustion equipment (pilots and burners)
Combustion control systems
Fuel – Air ratio control strategies
Burner management systems
Methods to maximize energy efficiency (process specific)
Hands-on training and analysis of customer's heating equipment
BURNER REPAIR & REPLACEMENT PROGRAM
As a full-service supplier of replacement parts and cost-effective rebuild programs, we also offer root-cause component failure analysis and part stocking programs to help you minimize your downtime.
Contact a Bloom Engineering Team Member today to discuss your service needs.